Wax or Polish, Which is Best for Your Car Exterior?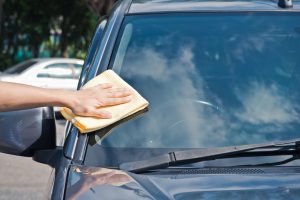 It is extremely important to keep the exterior of your car in good shape, and vehicle wax and polish products are some of the best ways to protect it and keep it looking great. However, there are subtle differences between the two and more to it to decide which is better for your car exterior.
Waxing a Car
The primary purpose to wax a car's exterior is to add a layer of protection from air pollution, harmful UV rays from the sun, and corrosion, among other things. The act of applying the wax adds that protective barrier between those harmful elements of the environment and the vehicle's finish.
Your wax can either be synthetic or natural. While natural waxes are made from caranauba and can offer protection and shine, synthetic waxes to last longer than natural ones.
Particularly important is that you need to wash your car thoroughly before waxing it. While it will seal out external environmental hazards, anything already on the exterior of the car and still underneath it can damage the paint underneath.
Polishing A Car
The purpose behind polishing a car it to give it a smooth, beautiful surface and get rid of defects or imperfections on the paint or clear coat. It can get rid of a lot of pollutants and damaging materials that regular washing will not, while at the same time, help repair small scrapes or damage to your paint.
As before, there are two main types of car polish, chemicals and abrasives. Chemicals help clean the exterior of the vehicle while abrasives help fix imperfections in the paint or clear coat.
So… Which is the best for a car?
Since they both serve different purposes, it is recommended to do both. Always clean your vehicle first and fix any major damage before you apply a wax and polish. Always wax after polishing, as the polish can remove the wax and negate any of it's benefits.
If you have any further questions about your car exterior or anything else related to your vehicle, be sure to get in touch with our ASE-certified technicians!